Some Best Father & Son Moments In WWE History that You Would Love
Aside from Vince and Shane McMahon, most father-son moments in WWE tend to be quite heartwarming.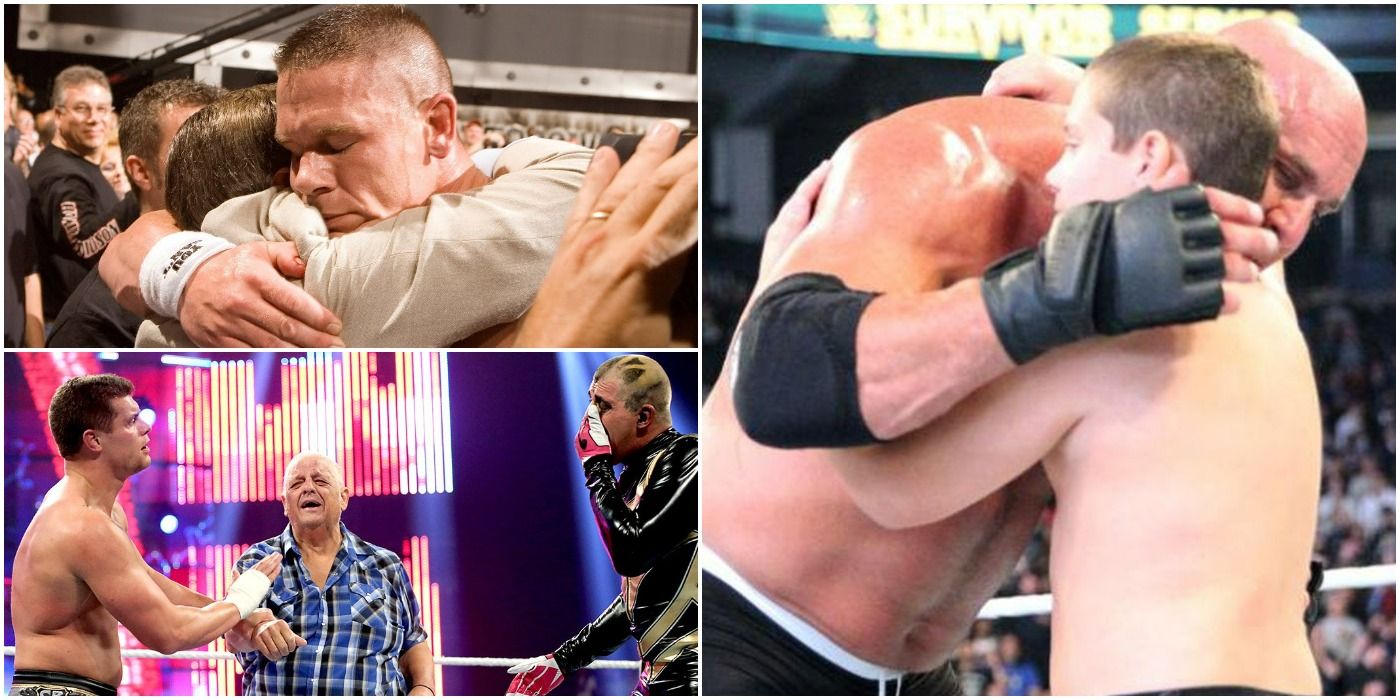 Seeing father-son moments take place in professional wrestling isn't something that happens regularly. However, when they do, it can be a lot of fun, as fans can connect to the emotions behind it. They often show different sides to a wrestler when they work alongside their father or their son.
It can help to humanize a wrestler, as those types of relationships are something that fans can understand straight away. There have been some excellent connections between people at times, whether they have been scripted or not, which can end up being ones that everybody remembers.
10 

Goldberg Celebrates With His Son
When Goldberg first returned to WWE, the entire reason for that was his son. He wanted his child to have the chance to see him compete live, and that is something that was a driving force for his decision-making. It helped make Goldberg likable and allowed audiences to get behind him.
After he rocked Brock Lesnar at Survivor Series, shocking the world, Goldberg brought in his son for a celebration, which wrapped up that particular storyline perfectly. It was something Goldberg wanted to happen, and that led to an emotional moment.
9 

#KofiMania Reaches The Dream
Kofi Kingston's storyline heading into WrestleMania 35 was one of the greatest that WWE has ever created. Audiences were behind him, and wanted to see The New Day star defeat Daniel Bryan. When that moment happened, as he became WWE Champion, the WWE Universe erupted.
But none more so than his children. They got themselves in the ring to celebrate with their father, which led to a heartwarming celebration that wrapped things up nicely. It added to the moment perfectly, making it even more special.
8 

Zack Ryder Gets A Surprise
Another unscripted moment involving someone's father that took place at WrestleMania featured Zack Ryder. He shocked people by becoming Intercontinental Champion at WrestleMania 32, and his father was certainly stunned. So much so that he hopped the barricade and got into the ring.
It wasn't planned, but it led to an emotional moment between them as they celebrated together. Despite his father trying to put a cowboy hat onto Ryder's head, he was happy to see him in the ring, and the pair hugging was a brilliant father-son wrestling moment.
7 

The Rhodes Family Comes Together
The connection that the Rhodes family has is something that is well documented. But WWE tapped into that in 2013, making it a storyline for people to witness. This was clear at Battleground, when Cody and Goldust faced The Shield with their jobs on the line, and they brought Dusty with them.
He busted out the Bionic Elbow to help his sons get the victory, in what was an incredible match. But it was all about the post-match celebrations, with the emotions being high between all three that led to this being an incredible segment.
6 

Teaming To Fight A Deadman
Randy Orton comes from a great legacy of professional wrestlers, with his family being a fantastic one. WWE's decision to place him and his father together as a pair was a great choice. Both men played heels here, and they worked together in a feud against The Undertaker.
They had some great moments together throughout this storyline, with Cowboy Bob Orton working hard to try and help his son. It was brilliant to see them working as father and son, and the fact that they were having so much fun only helped to make that even greater.
5 

Rocky Johnson Saves His Son
Rocky Johnson comes from a long line of wrestlers, and that was something that he passed on to his son, The Rock. The two of them have made huge impacts on the business. They got to share a moment at WrestleMania 13, which was a cool spot for them both.
The Rock had defeated The Sultan in an Intercontinental Championship match. This led to his opponent and his faction attacking him after the match. That was until Rocky Johnson appeared to make the save for his son, as they fought side by side in a cool moment.
4 

The Miz & His Father Celebrate
The Miz's father is a popular one amongst wrestling fans, becoming someone has been meme'd a lot. However, he shared a nice moment with his son after he and Shane McMahon captured the SmackDown Tag Team Titles. Shane brought him out as a genuine surprise, which created a cool moment for them.
The Miz's father told him that he loves and is proud of him, and that saw them have a great moment together. Of course, they also shared the hilarious spot at WrestleMania 35 when The Miz's father got into the ring.
3 

A Father-Son Dance
The Usos are a fantastic tag team, and they came through the business due to the fact that their family is also involved. Their father is Rikishi, who is a legend of the industry, and they shared a moment on Raw where they all did the trademark Too Cool dance.
It's something that helped make Rikishi's career, so seeing him do it alongside his two sons created an epic moment. All three of them were having a blast while doing it too. While it wasn't a big emotional situation, it was still a lot of fun to witness.
2 

The Mysterio's Become Tag Team Champions
Rey and Dominik Mysterio have had quite a few father-son moments, dating back to the infamous custody of Dominik storyline that Rey had with Eddie Guerrero. They also worked together fighting Brock Lesnar, which was another cool moment that they got to share.
But nothing is going to top them becoming Tag Team Champions together. That is an ultimate goal for any father-son, who are both involved in wrestling. Seeing the emotions they had after winning the match told the perfect story for fans.
1 

John Cena Shares An Emotional Moment
John Cena's father was heavily involved in his storyline with Edge in 2006. The Rated R Superstar had invaded the family home, slapped Cena's father, and pushed his buttons a lot. He was then there at ringside during their classic Unforgiven encounter, and the entire crowd booed John that night.
However, after he defeated Edge, Cena was quick to find his father, with the two men sharing a hug. It was a highly emotional situation for them, and seeing that take place was something that audiences loved.